A series of free Durham Lumiere 2019 workshops is giving people a chance to create Bottle Festoon, an artwork for this year's festival.
Everyone is invited to head down to their local library to take part in the Durham Lumiere art workshops, turning used plastic bottles into chandeliers.
The art produced at the Durham Lumiere 2019 workshops will be included in the festival when it takes place in November, forming part of an artwork called Bottle Festoon.
The free Durham Lumiere art workshops are taking place at all Durham County Council run libraries and will see schoolchildren, community groups and families turn used green and white plastic bottles into chandeliers.
Read next: Call goes out for Durham Lumiere festival maker volunteers
Professional artists Kay Henderson, Vicky Holbrough and Dawn Belshaw will lead the Durham Lumiere 2019 workshops, which are taking place on various dates from now until Friday November 1.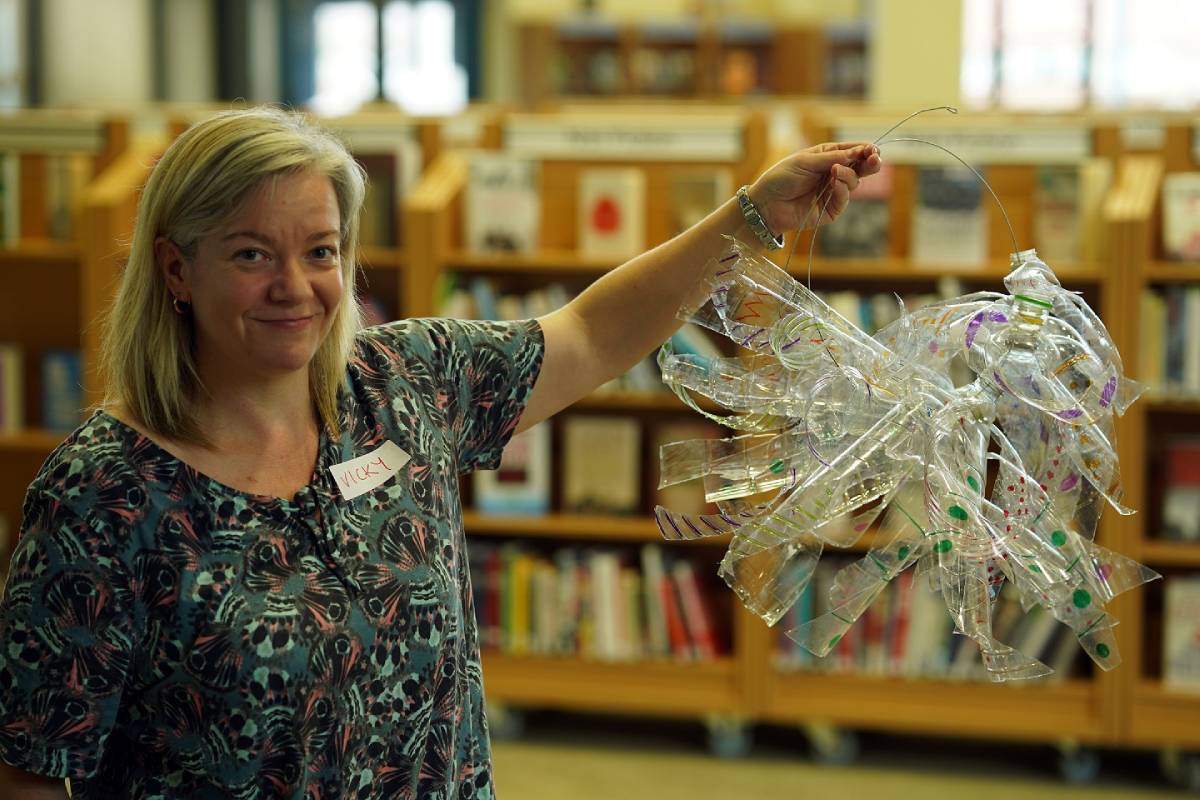 You can also take along used plastic bottles from home. Green and clear bottles are preferred, but other colours can be incorporated. Two litre plastic bottles are best but one litre and 500ml bottles can also be used.  
All bottles should be rinsed with hot water and labels should be removed.
When and where are the Bottle Festoon Durham Lumiere 2019 art workshops?
Barnard Castle: Monday September 23, 10am-12pm, led by Dawn Belshaw
Woodhouse Close: Thursday September 26, 10am-12pm, led by Dawn Belshaw
Esh Winning: Thursday September 26, 1-3pm, led by Dawn Belshaw
Wolsingham: Friday October 27, 9.30-11.30am, led by Dawn Belshaw
Langley Park: Friday September 27, 1-3pm, led by Dawn Belshaw
Peterlee: Monday September 30 10am-12pm, led by Vicky Holborough
Murton: Monday September 30, 1-3pm, led by Vicky Holborough
Crook: Wednesday October 2, 9.30am-1.30pm, led by Dawn Belshaw
Ferryhill: Thursday October 3, 9.30-11.30am, led by Dawn Belshaw
Chilton: Thursday October 3, 1-3pm, led by Dawn Belshaw
Willington: Friday October 4, 10am-12pm, led by Dawn Belshaw
Shildon: Friday October 4, 1-3pm, led by Dawn Belshaw
Chester le Street: Saturday October 5, 10.30am-12.30pm, led by Kay Henderson
Clayport: Saturday October 5, 2-4pm, led by Kay Henderson
Coundon: Wednesday October 9, 9.30-11.30am, led by Dawn Belshaw
Lanchester: Thursday October 10, 9.30-11.30am, led by Dawn Belshaw
South Moor: Saturday October 12, 10am-12pm, led by Kay Henderson
Wingate: Tuesday October 15, 9.30-11.30am, led by Vicky Holborough
Consett: Saturday October 19, 10am-12pm, led by Kay Henderson
Sedgefield: Friday October 25, 1.30-3.30pm, led by Vicky Holborough
Annfield Plain: Saturday October 26, 10am-12pm, led by Kay Henderson
Thornley: Monday October 28, 10am-12pm, Vicky Holborough
Easington Colliery: Monday October 28, 1.30-3.30pm, led by Vicky Holborough
Belmont: Monday October 28, 10.30am-12.30pm, led by Kay Henderson
Sacriston: Monday October 28, 2-4pm, led by Kay Henderson
Stanley: Tuesday October 29, 10.30am-12.30pm, led by Kay Henderson
Pelton: Wednesday October 30, 10.30am-12.30pm, led by Kay Henderson
Newton Aycliffe: Thursday October 31, 1.30-3.30pm, led by Vicky Holborough
Shotton Colliery: Friday November 1, 10am-12pm, led by Vicky Holborough
Horden: Friday November 1, 1.30-3.30pm, led by Vicky Holborough
Read next: Bowes Museum Christmas grotto tickets go on sale