County Durham's services during Coronavirus have obviously been affected and the disruption covers everything from buses and pest control to rubbish, recycling and care support. Here's the current situation and what's available.
A huge amount of services and public work goes on every day in normal times, and because of the Covid 19 Coronavirus some of these Durham services have been altered and delayed while others have been stopped altogether. However, the council is continuing to maintain essential services.
Below is a brief rundown of Durham services and how they've been affected over the last week or so, from buses and social care to parks, gardens and pharmacies.
Durham parks and play areas during Coronavirus
Durham parks and gardens have been staying open for people to be able to get their daily exercise, but Durham play areas and beaches are closed. Similarly, visitor centres are closed: Bowlees Visitor Centre in Teesdale is closed until further notice along with the lodge in Blackhall and Consett Park.
Hardwick and Wharton Park are open but the visitor centres and cafes are closed. Events and school trips have all been cancelled.
Durham in Bloom has also been cancelled.
Durham rubbish and recycling collections during Coronavirus
Durham rubbish and recycling collections have stayed as normal, but all Durham tips are closed.
Durham garden waste collections are delayed until Tuesday April 28 in order to focus on rubbish and recycling. Participants will get the full 17 collections, with the last on Friday December 18.
Bulky waste collections have been suspended.
Durham leisure centres and exercise events during Coronavirus
Leisure centres and events are closed or on hold. However, if you've got a Durham leisure centre membership, it'll be frozen for now and the direct debits adjusted. For people who've paid up front, the period of closure will be added to the end of their contract.
Durham buses including Link2 and the Cathedral bus during Coronavirus
Arriva and Go-North East are operating revised timetables, which can be found at www.durham.gov.uk/busmap
The Access Bus has been suspended during Coronavirus, while the Link2 service can only take bookings for essential journeys including shopping, travel to and from work, medical appointments and care for vulnerable people.
Durham Bus Station closed on March 30, but alternative bus stops are available on North Road.
The Durham Cathedral bus is suspended.
Durham park and ride is not running and the car parks closed on March 27.
Durham bus passes during Coronavirus
If there's a 9.30am restriction on your bus pass, this has been lifted until further notice.
Durham libraries, computers and library fines during Coronavirus
Durham libraries are closed during the Covid 19 lockdown. Library book fines accrued while libraries are shut will be waived. The libraries are looking at ways to maintain access to computers. The mobile library will not be running.
You can access ebooks instead by going to www.durham.gov.uk/ebooks
Durham venues during Coronavirus
Binchester Roman Fort, Bishop Auckland Town Hall, Durham Town Hall, Consett Empire Theatre and Cinema, Durham Gala Theatre and Cinema and Killhope Lead Mining Museum are all closed until further notice.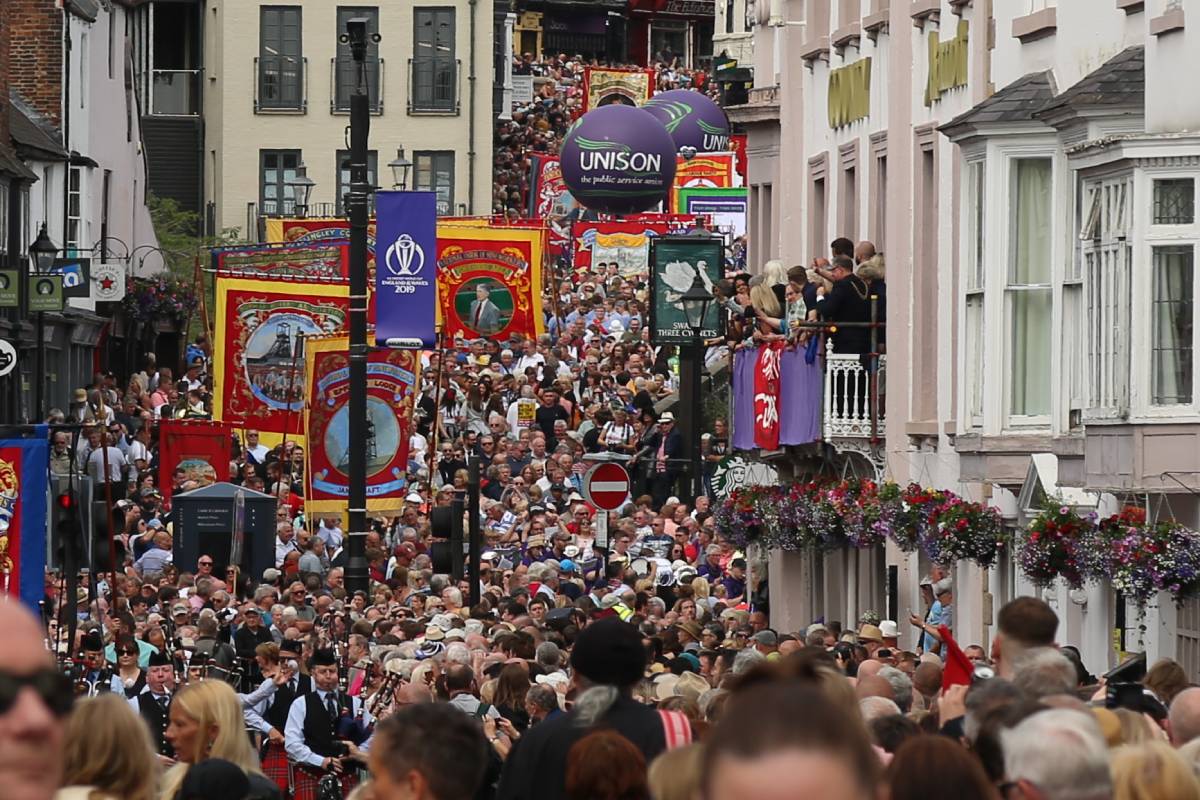 Durham Festivals during Coronavirus
Bishop Auckland Food Festival, Durham Adventure Festival and Seaham Food Festival have all been cancelled for 2020, as has Durham Miners Gala 2020.
Archaeology Day has been postponed until further notice, as has the Big Spring Clean. Community art programmes and activities are on hold, and the Community Action Team has postponed all community events and face-to-face partner meetings until after Thursday April 30. Their programme will continue.
Durham roadworks during Covid-19
Roadworks have stopped except for emergencies including emergency repairs, winter gritting, road traffic accidents and emergency highway defects. The council says that cones and temporary signs will have to remain in place for the safety of all road users.
The council's street lighting team is running a limited service but will respond to emergency callouts.
Public rights of way remain open.
Durham customer access points
Durham's Customer Access Points have moved online during the outbreak. Physical access points have been closed until further notice, but the customer contact centre is still open and responding to online and telephone enquiries by calling 03000 26 0000. Details of these can be found at www.durham.gov.uk/customeraccesspoints
The phone line opening times are 8.30am to 5pm on Monday to Thursday, and 8.30am to 4.30pm on Fridays.
Other activities
All fostering and adoption drop-in sessions have been cancelled until further notice, but the enquiry line is still open.
All existing Volunteer Durham opportunities are on hold. Public consultation events have been cancelled until further notice.