When you visit a big country estate like Tatton Park near Manchester, there are usually a few key items that are must-see; well-flagged unique features that, once you've spotted them, you feel you can safely tick the location off your 'to see' list. But are we missing the hidden treasures?
Tatton Park has some fantastic heritage features, such as the impressive gardens and hothouse, the museum of 1930s curios collected from around the globe, and the below-stairs maze of kitchen rooms including a wine cellar, beer cellar, dairy room, meat salting room, and bakery.
But there are some little features that it's very easy to walk past if you don't know they're there. So take a heritage tour with us and find a few of the Tatton Park things to see that you might otherwise walk straight past.
The welcome griffins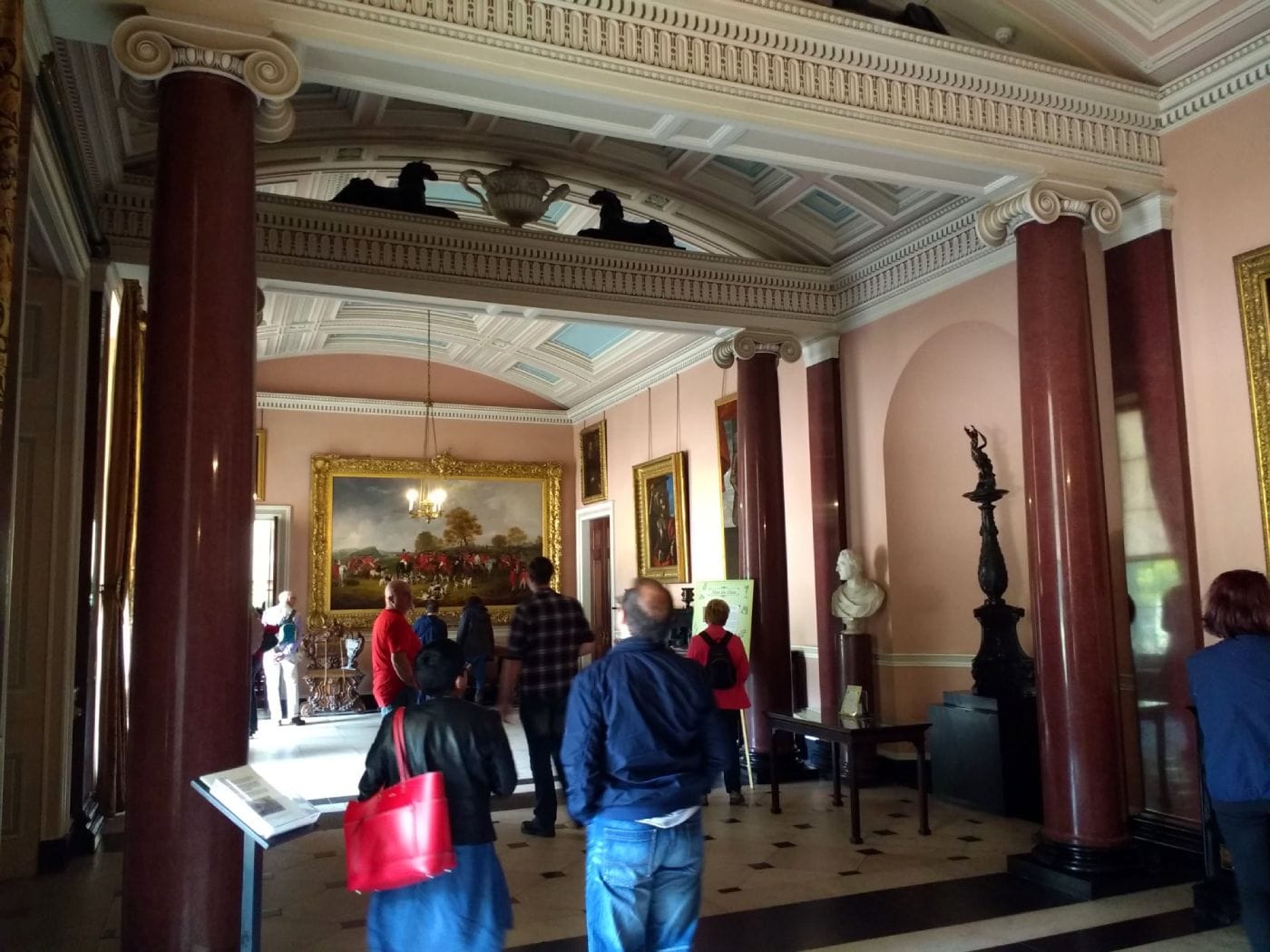 What suggests a friendly welcome better than griffins? Well, most things probably, but there's a good reason these little chaps are hiding up in the rafters, unseen by many visitors.
This is the original main entrance but isn't the modern entrance used by us sightseers, so it's easy enough to miss them. But look up and you'll see them hiding under the arches. They form part of a wider pattern, and each part has a meaning. The stone griffins represent protection, and the jar between them represents Bacchus, god of wine – meaning a friendly welcome. But the egg and dart design in the plasterwork next to them represents life and death – in other words: you are welcome and looked after here, visitor, but don't forget that you're mortal. Try saying that to your neighbour next time they pop over for a cuppa.
The secret door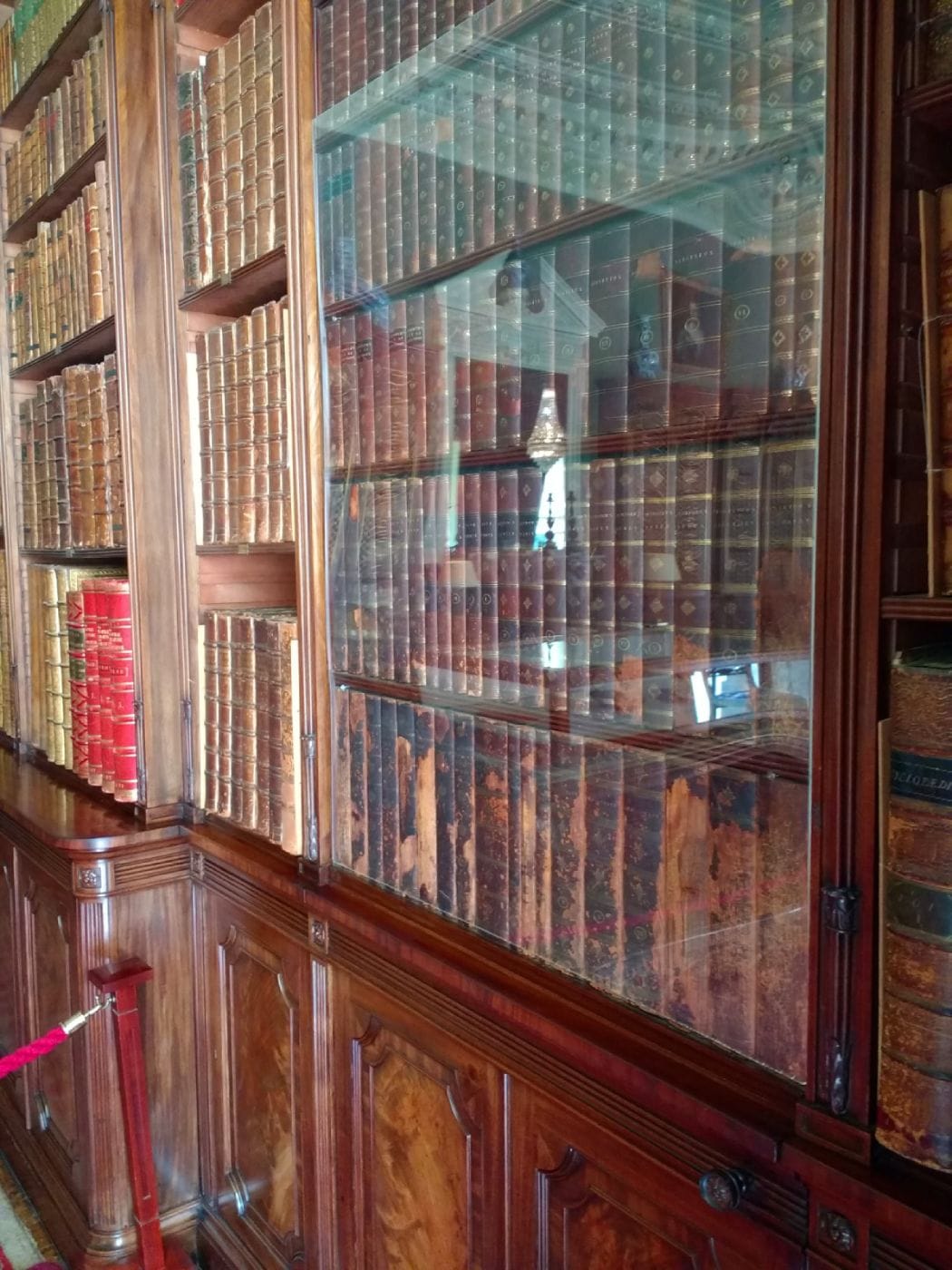 Okay, admittedly it might not be that secret, mainly because it forms part of the route that visitors take around Tatton Park and is consequently left open, but ask one of the room stewards to close it for you to get the full effect.
Once it's closed, it would probably have been difficult to see how to exit the room if you didn't already know (to be fair, I'm guessing most people would already know, unless they'd been brought into the library in a dead faint and then left to their own devices. A fairly unlikely scenario, you must admit). Designed to give symmetry to the room, the detail on the door is impressive. Not only does it have a fake keyhole for the fake cabinet: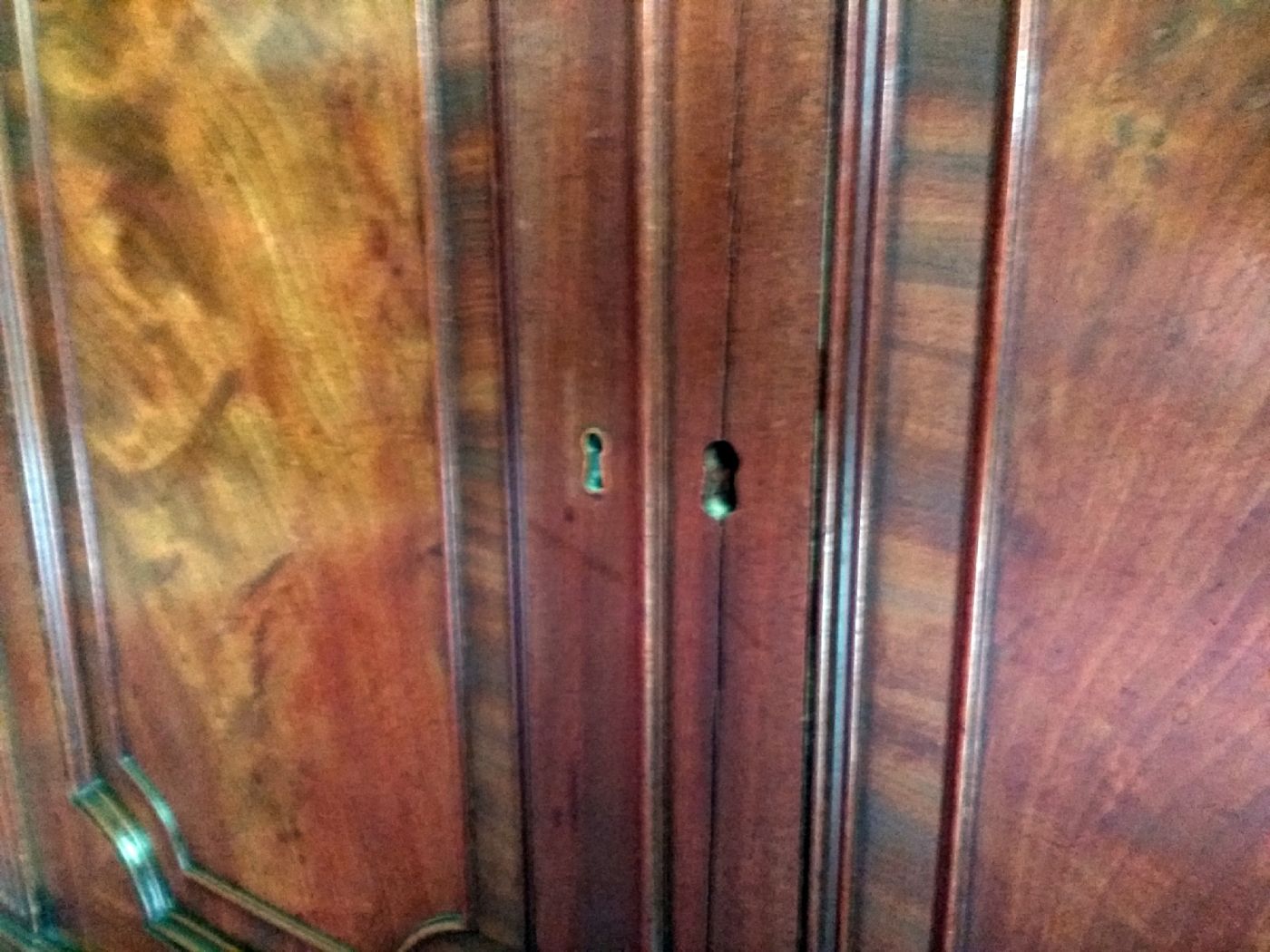 But it also has the spines of real books, lovingly ripped off the books themselves and stuck on to the door. If I was John Pinkerton, I'd be pretty pissed off: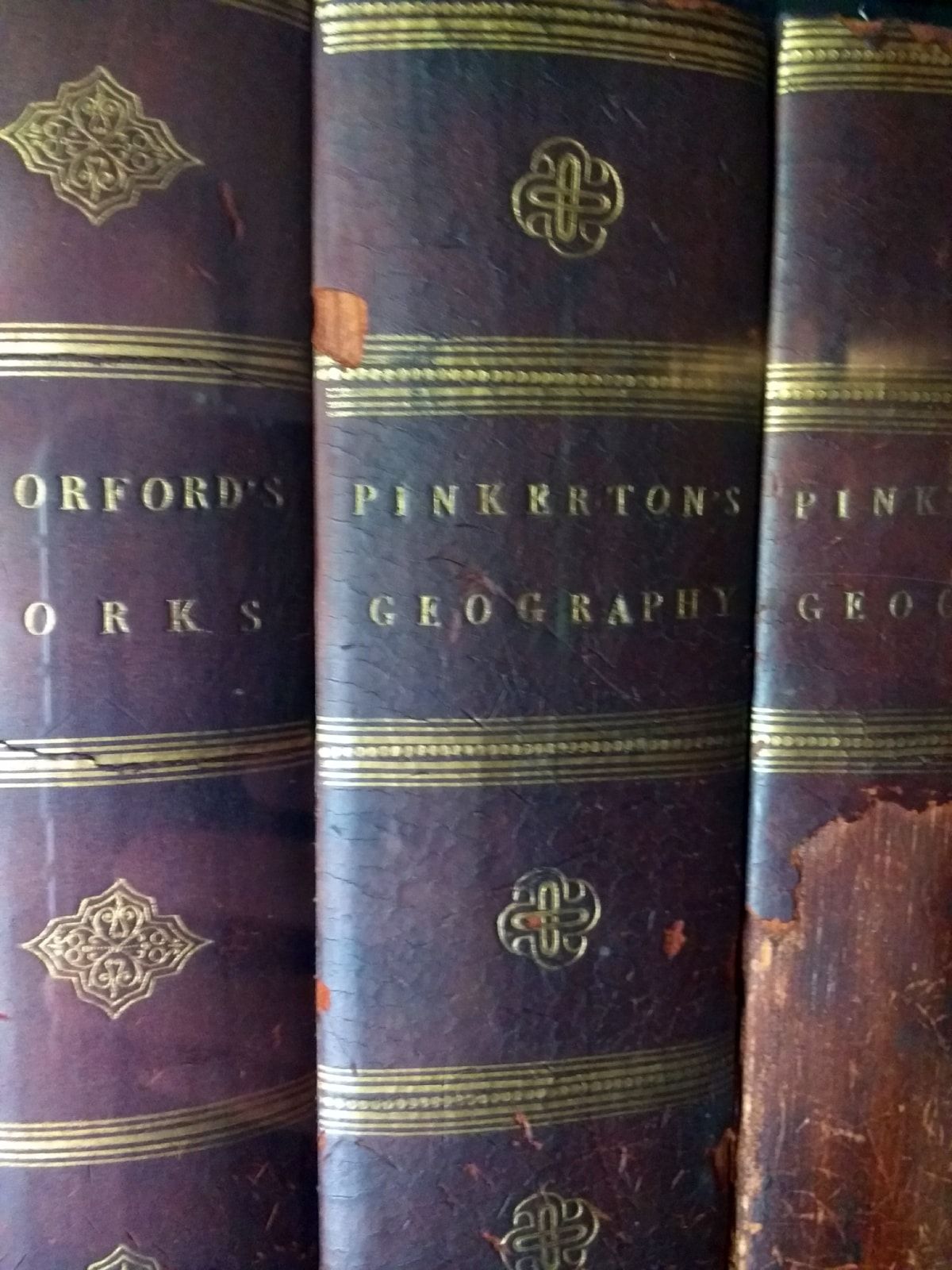 You can see the wear on the book spines at the bottom right of the door, presumably where people have casually pushed the door closed over the years, but now it's protected by perspex.
Canaletto dogs
It's pretty impressive that Tatton Park has got two Canaletto paintings. They're some of his earlier works from around 1730, while he was still painting Venice before he moved to London.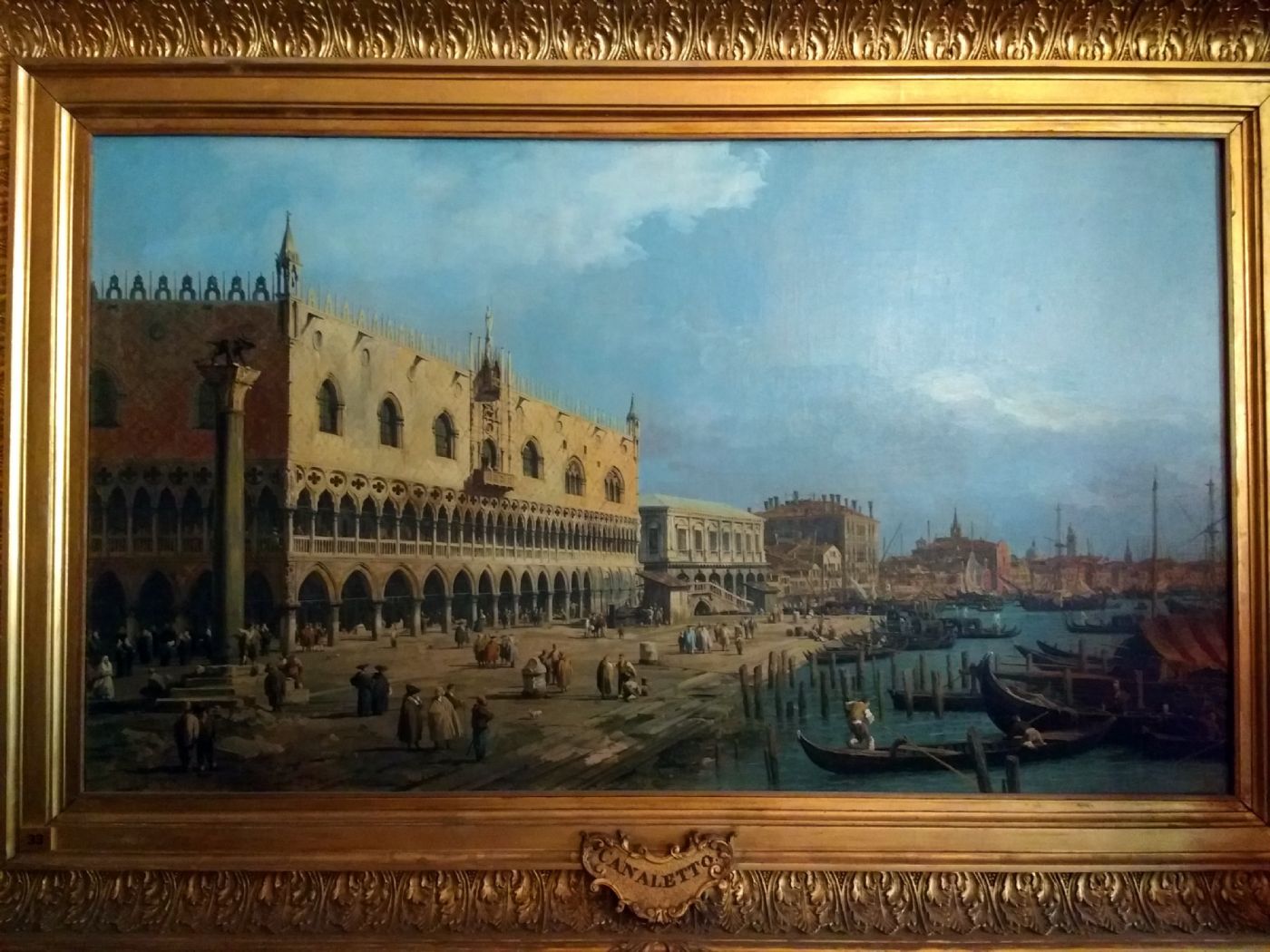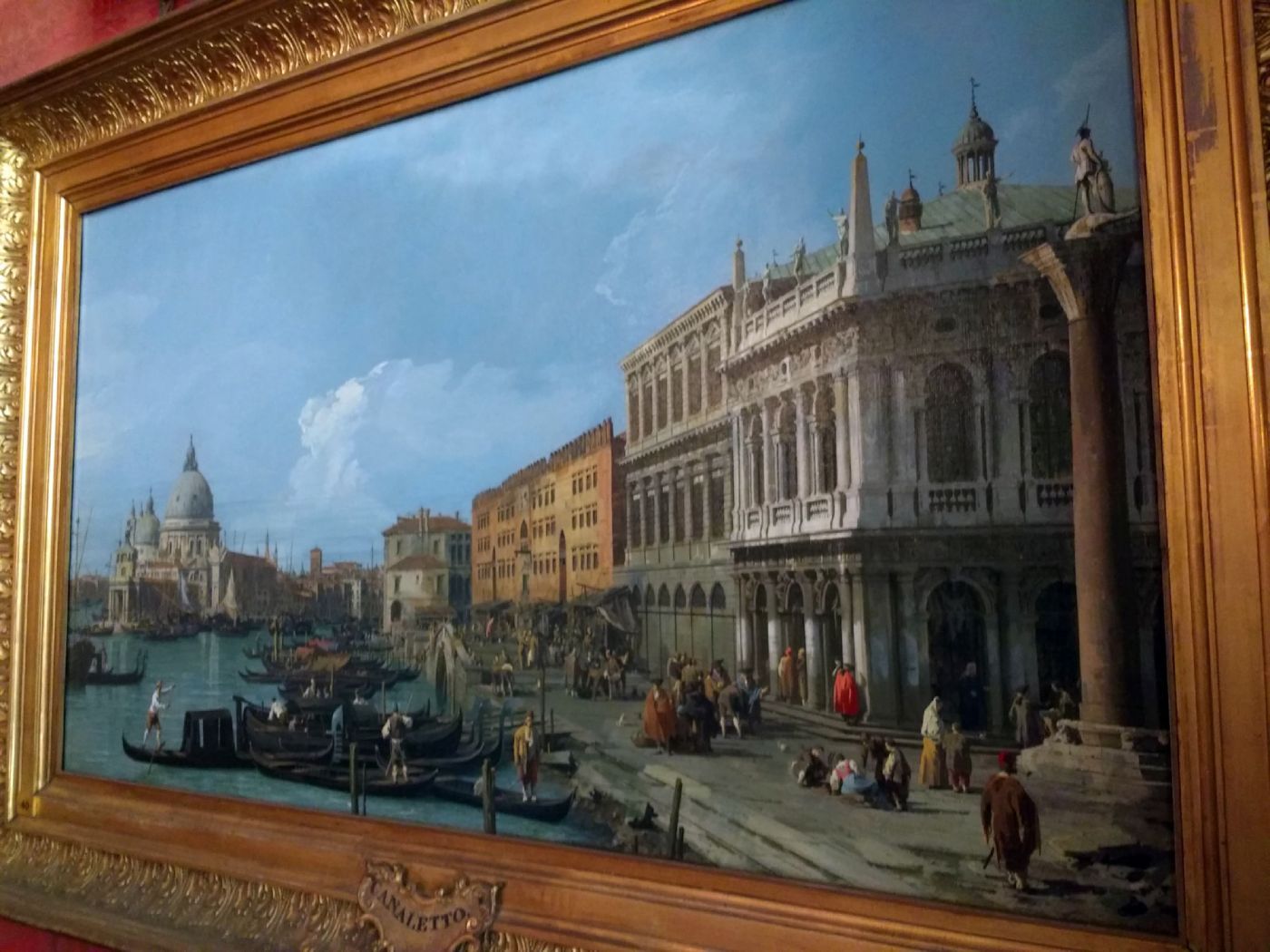 Joseph Smith wrote to Samuel Hill of Tatton Park – who he knew was in the market for a nice bit of artwork – that he'd found this young artist who might be able to oblige. His letters hint at how difficult Canaletto was to work with.
But it's not only the paintings themselves that are worth close attention, but what's in them. Dogs. Canaletto developed a bit of a reputation for putting a lot of dogs and cats into his paintings. Once you realise this, you'll seek them out every time you visit an art gallery.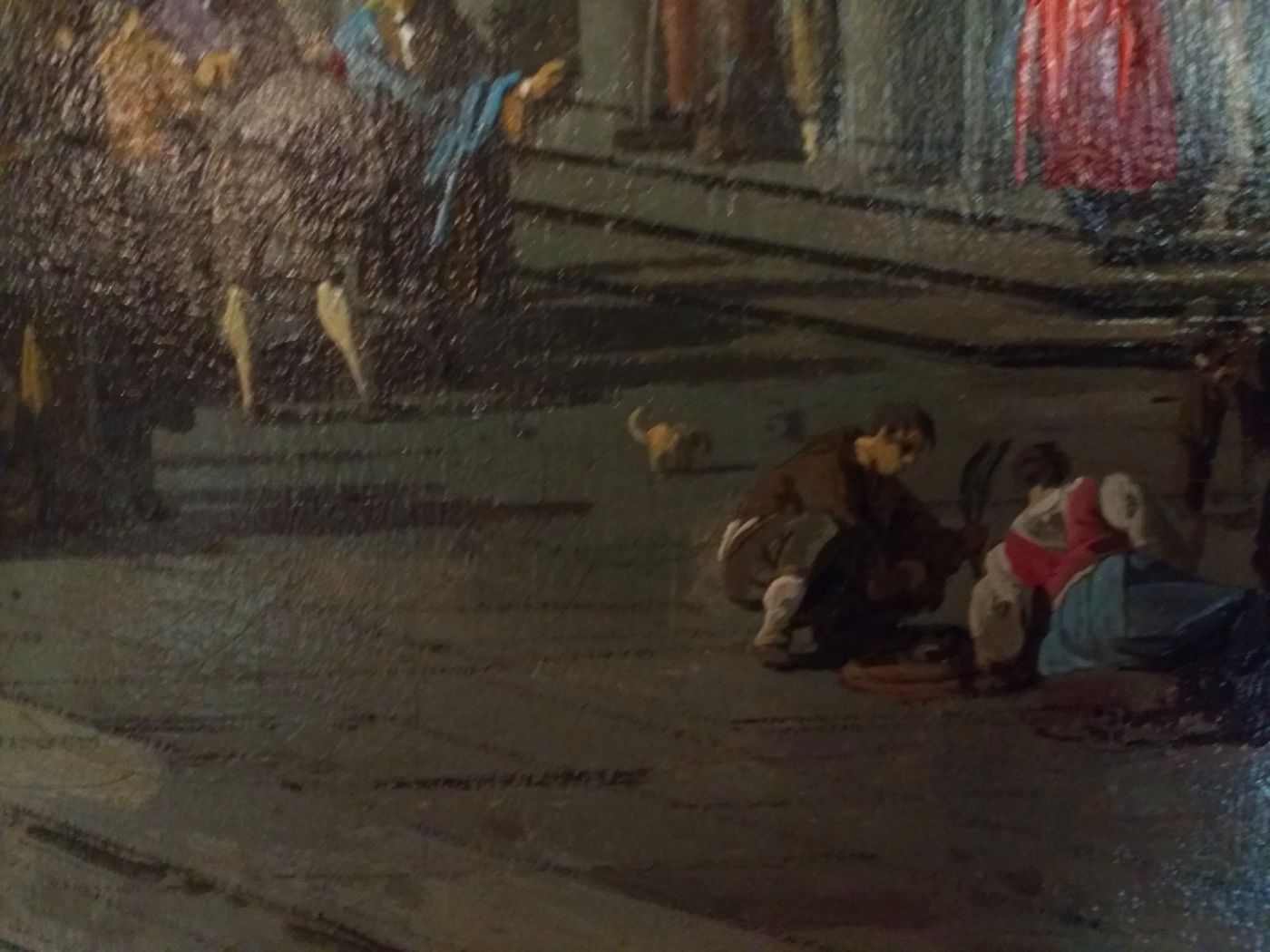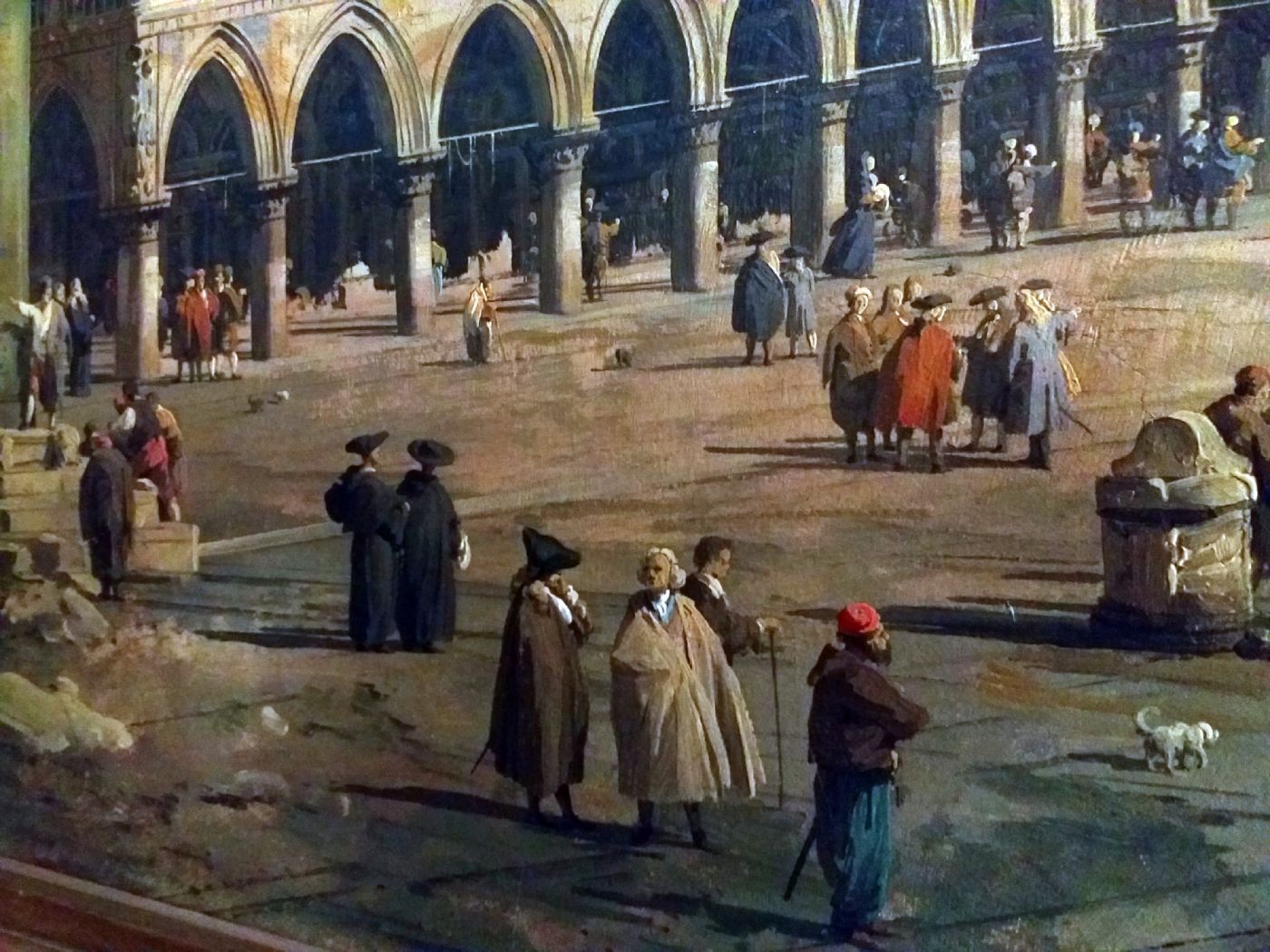 Sprung dance floor
Tatton Park played host to many a fine party, and the tradition would be that guests would dance in several different locations rather than in one big dancing hall. The dining room would be set for buffet refreshments, the orchestra would play from the half landing, and guests would gather to dance in different parts of the house.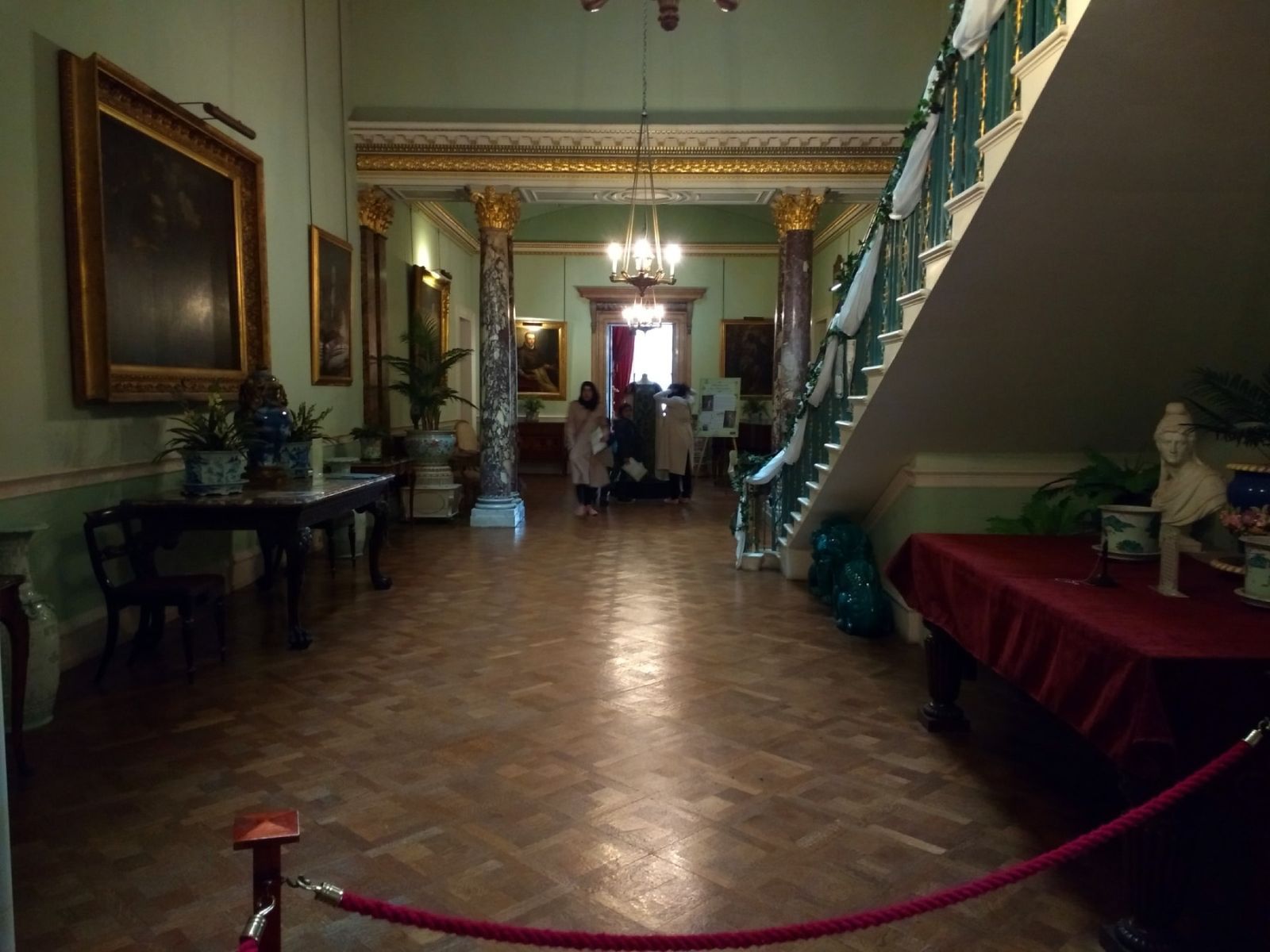 The Cupola Hall has some nice but unremarkable parquet flooring. As you pass it, have a quick bounce up and down on your heels, and you'll feel the give. Thanks to some clever layered woodwork, the floor is sprung, to give dancers the extra spring in their step to help them work their way around the floor to the energetic tunes of the age. If you didn't realise it, though, you'd easily just walk past.
Bacchus putti fireplace…
The dining room is all that survives of the original 18th Century hall at Tatton Park; the rest of the house was a later addition with building work carried out on and off over a 30 year period. It was always used as a dining room – how can you tell?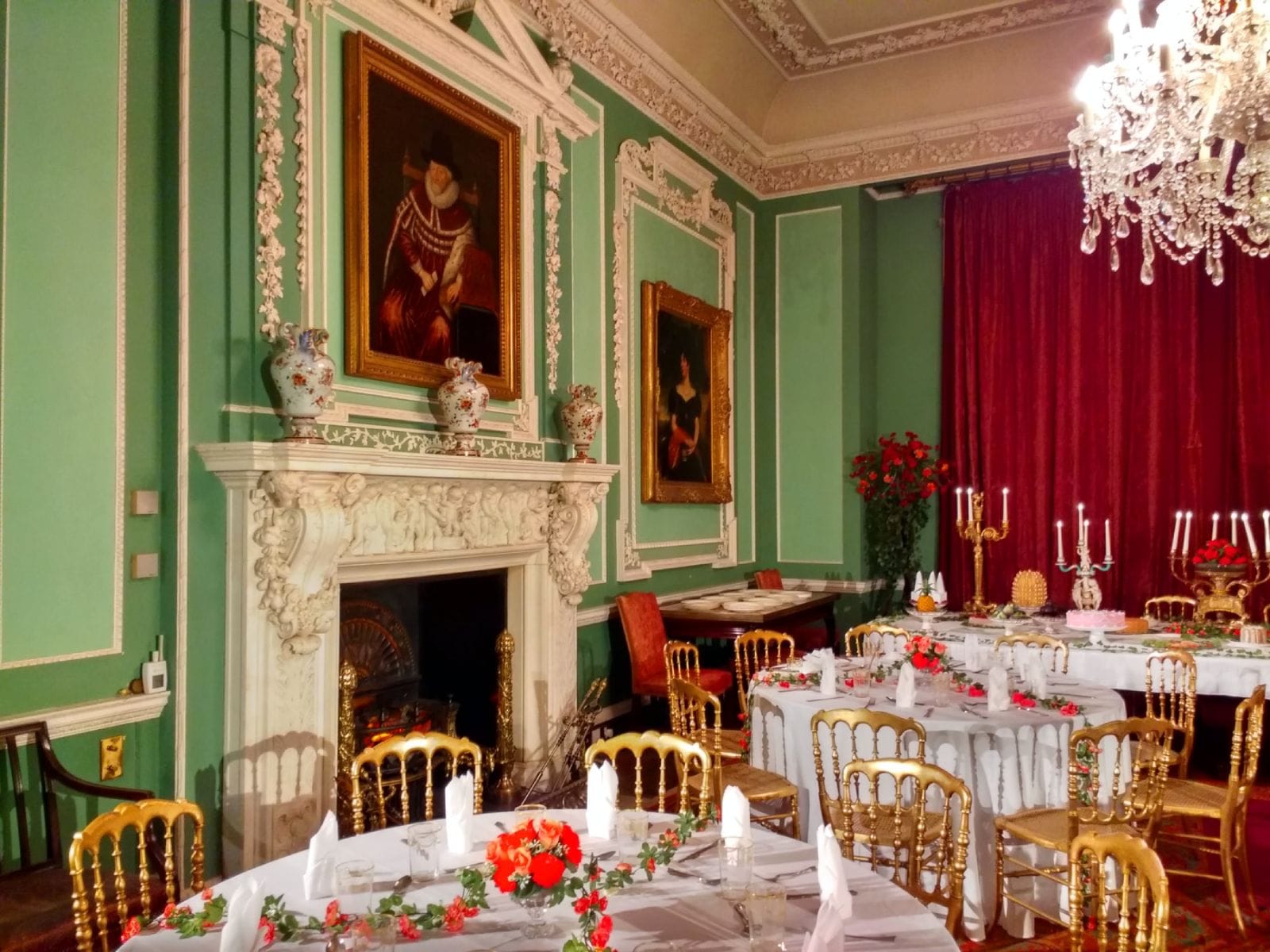 If you can get close enough, have a look at the fireplace. The putti (fat little naked cherubs) are treading grapes in a vat – a symbol of Bacchus, and wine.
…and the incredible tale of the man above it
Look just above the fireplace and you'll see an Elizabethan-looking portrait, one of many dark-looking portraits you'll see in every country house. What of it? This man was Thomas Egerton, who rose from begging on the street to being one of the most powerful men in England.
Born in 1540 as the illegitimate son of Sir Richard Egerton, one of Sir Richard's friends saw the young Thomas and his mother begging on the street, and suggested he should do something because people were talking. Initially, Sir Richard resisted, saying that if he helped one of his illegitimate children, he'd have to help them all(!). But eventually he allowed Thomas to take the Egerton name.
Young Thomas proved himself to be an intelligent and resourceful man, studying law and becoming a much sought-after lawyer. After beating Queen Elizabeth in a court case (which must have been a frightening experience for him, given her penchant for executions), she came over to him and said that he would never beat her again, as from now on he would be working for her. He became Queen's Counsel and then Solicitor General in 1581. Eleven years later, he was Lord Chancellor. Not bad going. As testament to his skills, James I kept him working until he was 77 – a respectable working life even by today's standards. He died 12 days after retiring.
Jelly moulds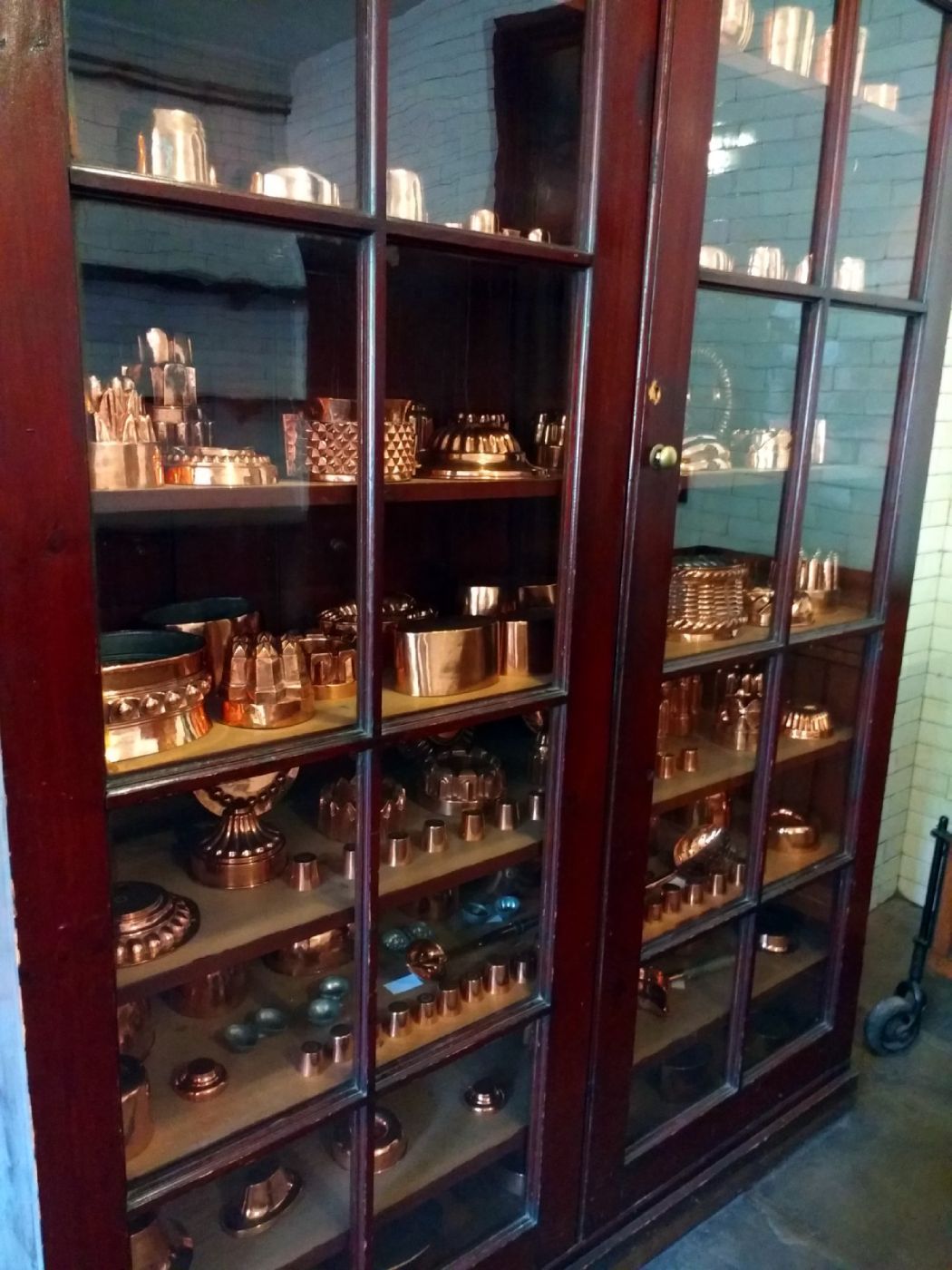 I do love a good jelly mould. Produced in vast quantities in the Victorian period thanks to mass production and cheap copper, intricate jelly moulds fetch high prices if you find them in antiques shops these days. Tatton Park has got a great selection in the kitchens.
The designs are fantastic, and must have created a wonderful centrepiece for big banquets. As well as jellies and savoury aspics, they would also have been used in blancmanges – these days rather maligned thanks to 1970s ready-made packet powder concoctions, but something of a treat in past centuries.
Some jelly moulds have towers, so that different colours of jelly or blancmange can be added one at a time, and others have inserts, allowing a cook to fill the outer mould with one colour, let it set, and then remove the insert and fill the inner hole with another colour, for an impressive dinner table effect.
Tatton Park parking: just be aware when you visit that Tatton Park parking price is £7 per car (and per horse, interestingly), irrespective of National Trust membership, because the vast car park is run separately. It's not a problem – especially if you're having a full day out and are National Trust members – but it's worth bearing in mind as it can add to the cost.
ExplorAR specialises in 360 pictures and video, augmented reality, 3D modelling and virtual reality, with a particular focus on heritage sites. To find out more, contact ExplorAR.