Looking for February half term events in Durham? We've taken a look through and found some activities you can enjoy with the whole family.
Durham's February half term dates 2020 are Saturday February 15 to Sunday February 23, and as usual venues across County Durham have got a series of events to keep children entertained.
Whether you're into crafting activities with younger children or maybe a guided walk or some music with teenagers, there's usually something going on in the county.
February half term events in Durham #1: Durham Oriental Museum family events
The Durham Oriental Museum has several events over the Spring half term. On Saturday February 15 is Gorgeous Glass, where you can decorate a glass jar with your favourite colours.
The following Friday, February 21 is Crazy Crocodiles. Find out why the Ancient Egyptians were scared of crocodiles and craft your own crocodile.  A range of art materials will be available.
The next day is Super Scrolls, where you can try writing some Chinese characters and make your own scroll.
Each event runs from 1-3pm and is included in the Durham Oriental Museum admission price (£1.50 adults, 75p children and over 60s, £3.50 family of two adults and three children) and is generally suitable for children aged five to 11. For information contact Durham Oriental Museum on oriental.museum@durham.ac.uk or 0191 334 5694.
February half term events in Durham #2: Wagging Dogs' Tails, Palace Green Library
In many of Norman Cornish's sketches, we see friendly dogs next to their owners feet. If you look closely, it almost seems as if the dog's tail might just wag. Construct your own dog complete with a wagging tail.
It's on February 15-16 from 1-3pm, and costs £2 adults and £1 children.
Read next: When is Fire and Ice Festival 2020?
February half term events in Durham #3: Fire and Ice, Durham
The Fire and Ice Festival 2020 returns with a series of ice sculptures located around the centre of Durham. There are also ice sculpting demonstrations, and a chance to try your hand too. With the entire festival being free, it's not to be missed.
It takes place on Friday and Saturday February 21-22 - we'll bring you all the information you need on our dedicated Fire and Ice page.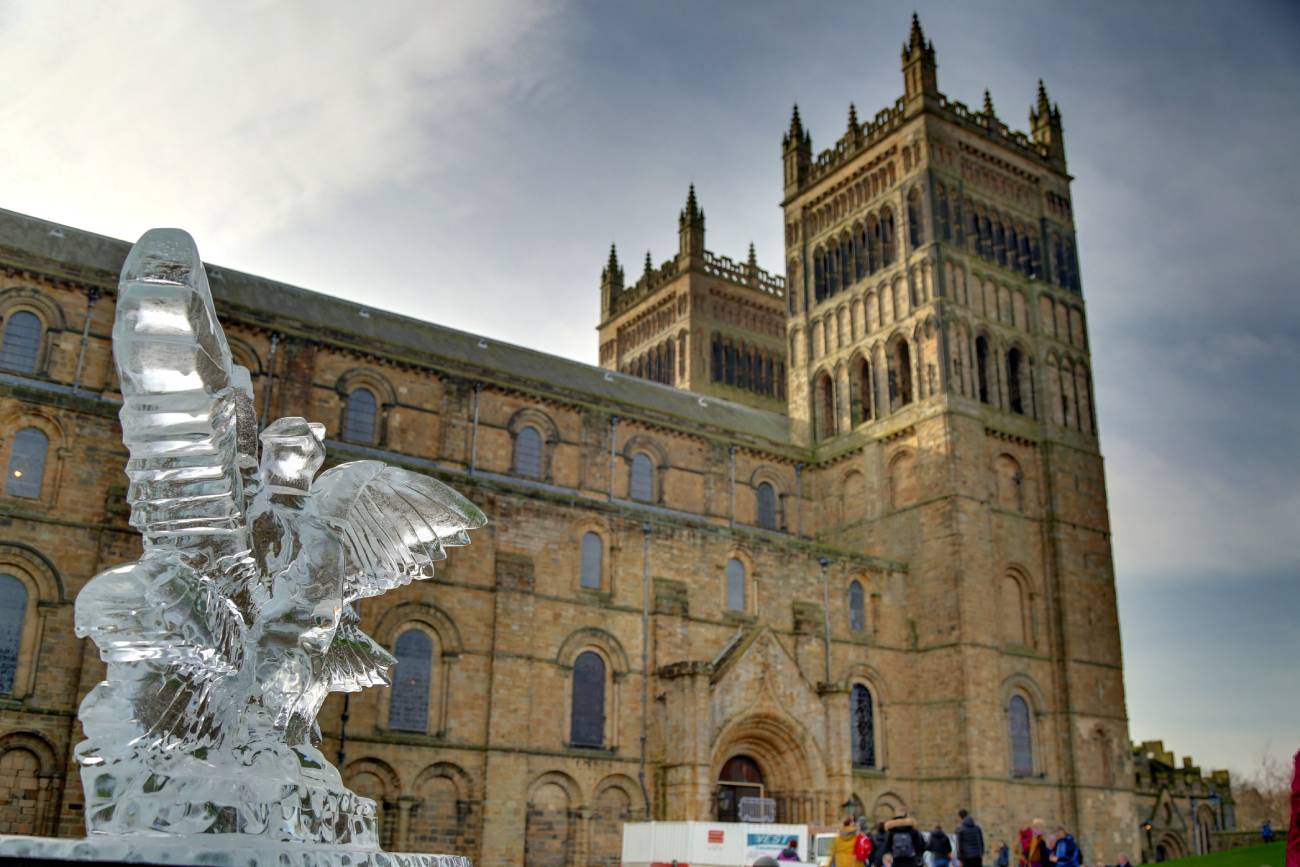 February half term events in Durham #4: Happy birthday Beamish, Beamish Museum
Beamish Museum is celebrating its 50th anniversary this February half term, so throughout the week you can enjoy birthday parties in each of the museum's areas across site and join in with party games, celebrations and birthday cakes.
In Pockerley Old Hall you can try your hand at embroidery, play parlour games, try on Edwardian costumes and sample celebration punch and candied fruit. In The 1900s Town you can play Edwardian party games in the Masonic Hall, while the 1900s Pit Village is making party decorations and birthday cards. There's pass the parcel at The 1940s Farm, while the party will be in full swing in the 1950s welfare hall. Play classic 1950s games including pin the tail on the donkey, musical statues and ring toss.
You can find out ticket prices and parking information in our Beamish Museum visitor guide.
February half term events in Durham #5: Meet the new arrivals, Hall Hill Farm
Hall Hill Farm will re-open in 2020 for February half term with a craft activity workshop in the playbarn. You can also see the animals in their winter quarters and meet the latest new arrivals. It's open from 10.30am-4pm.
For more information phone Hall Hill Farm on 01388 731 333.
Read next: Where are the Dragonville roadworks up to?