Durham Cathedral's new glass entrance lobbies are now finished - and here's what they look like.
The new glass porches in Durham Cathedral have been added to the north and south entrances after work that began in July 2018.
For the past 18 months, visitors have been accessing the cathedral via the Galilee Chapel and the cloister via the old Prior's Door.
The completion of the new glass entrance doors marks the final stage of Durham Cathedral's Open Treasure project, a six-year programme of works and activities, supported  by the National Lottery Heritage Fund, that included the creation of the Open Treasure museum.
The new glass entrance replaces the previous wooden porch and is designed to improve visitor access, use of the doors for liturgical processions and events, and the environmental conditions within the church.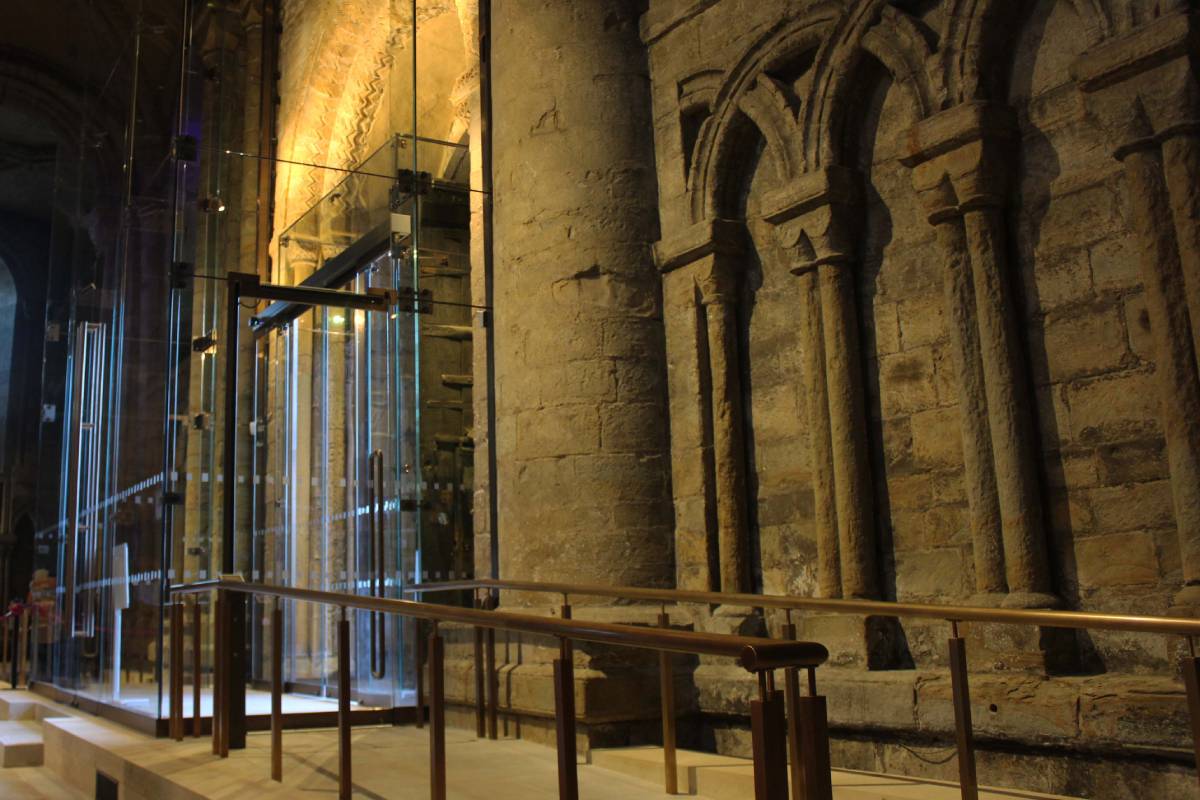 The previous wooden lobbies were created in the 1970s and Durham Cathedral said the porches restricted access into and out of the cathedral, and resulted in frequent bottlenecks, particularly at the south door.  
Read next: February half term events in Durham
Visitors were also unable to see beyond the south lobby into the cloister and the cathedral said the previous arrangement of steps, ramps and handrails at both ends were cluttered and unsightly.
The work was undertaken by Bishop Auckland firm Vest Construction.
The new glass entrances to Durham Cathedral were designed by cathedral architect Chris Cotton from Purcell, who said: "First and foremost, we wanted the lobbies to overhaul the visitor experience. We hope that the first impression visitors get upon stepping foot inside the lobbies is a feeling of openness and fluidity, owing to their minimalist and transparent design.
"Visitors are afforded panoramic views of the cathedral and beyond as they enter through the north door. The great arcades and vaults are now on full view, and visitors can see straight through to the south door, leading on to the cloister. The lobby on the south side has in turn improved access to previously hidden claustral buildings such as the cathedral's museum, shop and restaurant.
"A new longer ramp from the north door provides a fully accessible route into the cathedral church, ensuring that this extraordinary space can be enjoyed and explored by all.
"The new integrated lighting in the lobbies works to draw attention to arguably the most impressive carved Romanesque stonework in the entire cathedral.
"The lobbies also afford the delicate fabric of the cathedral greater environmental protection, and create a heat buffer to minimise heat loss."
Read next: Durham's Fire and Ice Festival is almost here