The Durham Fire and Ice map 2019 is here and will guide you to the 10 ice sculptures that are dotted about town. Tap on the map image below to open it fullscreen in a new tab.
Fire and Ice Durham 2019 is on Friday and Saturday February 22-23 and, if the three previous years' events are anything to judge by, it should be an excellent couple of days.
And with the 2019 Fire and Ice Durham map - produced by Durham Business Improvement District - you'll be able to see which sculptures are located where in Durham and find your way to your favourite comic book and big screen Hollywood Heroes and Villains.
Tap on the map below to open a fullscreen zoomable version of the Durham Fire and Ice map in a new tab: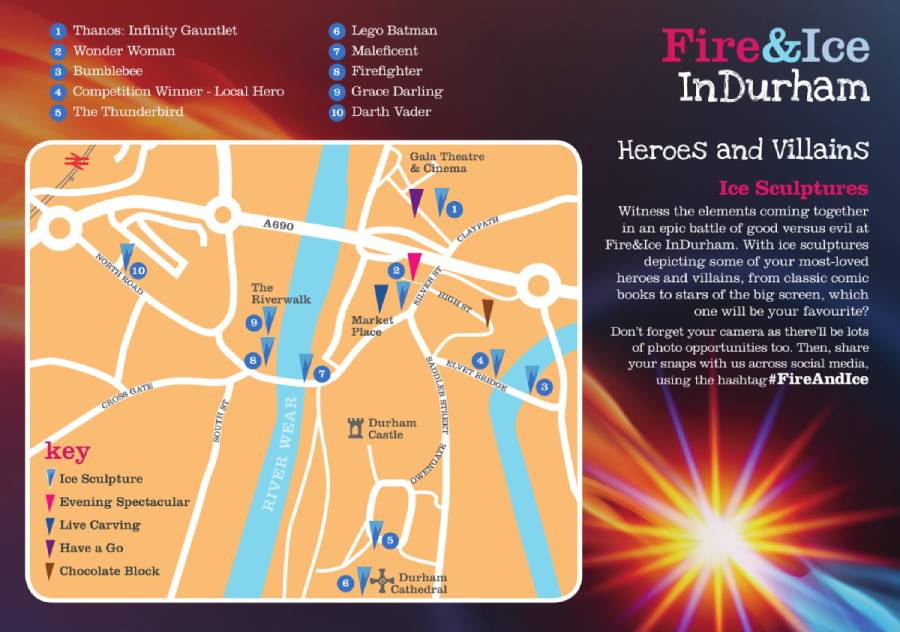 The Heroes and Villains theme for Fire and Ice 2019 will see ice sculptures including Wonder Woman, Darth Vader and Lego Batman at locations across Durham including Palace Green and the cathedral.
Read more: New to Durham Fire and Ice? Check out our guide to the 2019 event
Previous Fire and Ice festival themes included Polar Exploration as well as Myths and Legends, and visitors have enjoyed sculptures including Paddington Bear, the Tin Man from the Wizard of Oz, and Shakespeare.
Flaming torches usually mark the locations of the 10 sculptures, while there are also ice carving demonstrations in Durham Marketplace as well as a chance to have a go at carving for yourself, led by expert team Glacial Arts.
The finale of the Durham Fire and Ice event is the fire show spectacular, which involves water and fire shooting into the air in time to music. Taking place in front of St Nicholas Church in Durham Marketplace, it's well worth going along to see - but get there early as the crowds are usually quite deep.
Map credit: Durham BID