Mother's Day Durham offers and meal deals should make finding a way to treat your mum that little bit easier. We've rounded 12 of the best Mothering Sunday ideas available.
Durham might be a fairly small city, but thanks to its huge array of cafes, restaurants, hotels and visitor destinations, there should be a Mothers Day idea in Durham to suit any taste and budget, from meals out to overnight stays and even flower arranging.
Read next: When is Mothers Day 2019 - and how did it all start?
So whether you're aiming to buy your mum a nice meal or take her for an enjoyable day out, we've taken a look for the best Mothers Day Durham offers - so you don't have to.
Mothers Day Durham offers and ideas #1: Beamish Hall Mothers Day meals
Beamish Hall has got a variety of Mothers Day meals, including some on other days in case you can't make it on Sunday.
On Sunday March 31 is a Mothers Day lunch in the Beamish Hall Winter Gardens. Starting at 1pm, it includes a three course meal and a gift for every mum. It costs £27 per adult and £15 per child.
Buy tickets on the Beamish Hall booking page.
There's also the usual Sunday lunch available at the Stables Restaurant. Alternatively, if you can't make Sunday, then there's also Beamish Hall's Afternoon Tea at the Movies at 2pm on Thursday March 28.
You can buy tickets here.
Mothers Day Durham offers and ideas #2: Sunderland Glass Centre Mothers Day lunch
Head out of Durham on the A690 to Sunderland Glass Centre for a Mother Day lunch, where all mothers will receive a gift as a reminder of their day. Lunch in the The Glass Yard restaurant costs £10.95 for one course, £15.95 for two and £19.95 for three. Book by calling 0191 515 5555.
Also, on Saturday and Sunday March 30 and 31 between 9.30-10.30am and 10.30-11.30am, create a Mother's Day Owl and Flower Sandcast. Create a mould in sand, and then decorate it using your mum's favourite colours. Molten glass is then poured into your mould to create a special gift for mum. Children must be at least six years old and under 18s must be accompanied.
It costs £16 and you can book here.
The sandcasts need time to cool so they'll be available a week after the session.
Read next: Durham live music and theatre
Mothers Day Durham offers and ideas #3: Crook Hall Mothers Day afternoon tea
Crook Hall in the Spring is a marvellous thing, and you can combine a wander around Crook Hall's extensive gardens with a sparkling afternoon tea. On Sunday March 31 between 12-3pm, head to Crook Hall where you'll receive a drink of sparkling wine or elderflower fizz and two canapes, followed by tea and coffee and a three-tier stand of savouries and cakes. The bottom layer is sandwiches, the middle layer is homemade scones and the top layer has cakes.
Prebooking is essential, which you can do by phoning Crook Hall on 0191 384 8028. The cost is £24.50 per adult and £12 for children.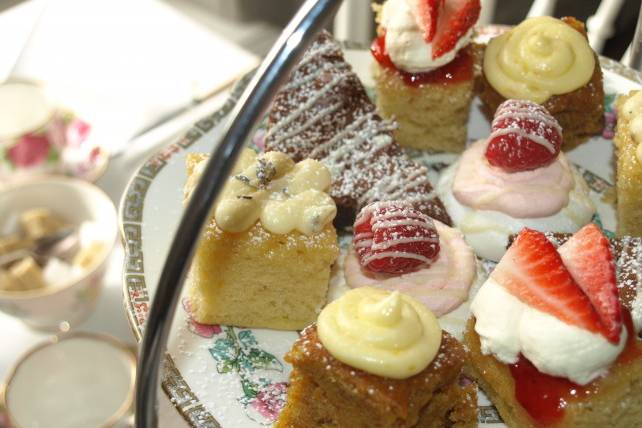 Read next: Family events in Durham this weekend
Mothers Day Durham offers and ideas #4: Ramside Hall afternoon tea or carvery, plus gift for mums
Ramside Hall has a few ideas for Mothers Day in Durham. On Sunday March 31, Ramside Hall's Mothers Day four course menu includes a gift for all mums.
The four course lunch in the Rib Room costs £32.95 adults and £17.50 children, while in the Ballroom it's £28.95 adults and children £16.50. Afternoon tea is £16.95 per person, served from 2pm. Booking is necessary, which you can do on 0191 386 5282.
Alternatively, if you don't manage to get a booking, then you could treat your mum to lunch in Pembertons Carvery (where tables cannot be prebooked) from 12pm, with a pianist playing in the background.
Read next: Free events in Durham this week
Mothers Day Durham offers and ideas #5: Beamish Mothers Day activities
Beamish Museum loves to celebrate occasions, and they've got plenty going on for Mothering Sunday. On Sunday March 31, Beamish Museum Mothers Day activities include making a paper flower in the Pit Village school, decorating pots and planting Georgian bulbs to take home in the gardens of Pockerley Old Hall, and making a Mothering Sunday card at the 1940s Home Farm.
You can also sing along with the Beamish Volunteer Choir performing in the Pit Village chapel from 1.30pm.
Meanwhile, Victoria Sponge will be baking in No. 3 Francis Street in the Pit Village, while apple tart will be baking in Miss Smith's house in The Town.
Mothers Day Durham offers and ideas #6: Rockliffe Hall Mothers Day treats
Rockcliffe Hall just south of Darlington has three Mothers Day ideas for you, all taking place on the day itself on Sunday March 31. The first is a Mother's Day Carvery in the Rockliffe Suite, which includes a gift for every mum, and a three course meal based around the carvery. The Rockliffe Mother's Day Carvery costs £42.50 (£21.25 children, two and under go for free) from 12pm.
The second idea is Rockliffe Mother's Day Family Afternoon tea in the Victorian Orangery. The children's menu includes fruit kebabs, sandwiches and chicken nuggets, while the adult afternoon tea includes sandwiches, a scone and sparkly cake. It takes place from 1pm and costs £30 per person, £15 for children aged two to 12, and free for those under two.
The third is a Rockliffe Mothering Sunday Lunch in The Clubhouse. Every mum receives a gift, and the menu consists of three courses designed by Executive Chef Paul O'Hara. It's available from 12pm and costs £45 per person, £22.50 for children aged two to 12, and free for those under two.
Visits to Rockliffe Hall include access to Rockliffe activities and entertainments such as inflatable football, Crazy Creatures Petting Zoo, the Wonderland of Curiosities including six curious cabins nestled in the woodland, and the Alice in Wonderland themed adventure playground.
To book, contact Rockliffe Hall on 01325 729 999 or email enquiries@rockliffehall.com
Mothers Day Durham offers and ideas #7: Lanchester Garden Centre flower arranging workshop
A slightly different idea than the usual Mothers Day meals. Lanchester Garden Centre flower arranging workshops are a chance either for you to go along and make something for your mum, or the workshop itself could be the gift if she enjoys crafts and flower arranging.
The Lanchester Garden Centre flower arranging workshop takes place on Sunday March 31 at 9-11.30am. It costs £40 including all materials and refreshments. You can book by phoning Lanchester Garden Centre on 07591 203776 or emailing sales@lanchestergardencentre.co.uk
Mothers Day Durham offers and ideas #8: Raby Castle Mother's Day Tour and Tea
Enjoy a tour and tea for Mothers Day at Raby Castle. Starting at 2.30 on Sunday March 31, you'll be taken on an hour-long Raby Castle tour, then have afternoon tea in the grand entrance hall from 3.30-5pm, which includes cakes, sandwiches and tea. You'll also have access to the Raby Castle park and gardens so you could arrive earlier and have a wander through the 200 acre deer park or the walled garden.
The Raby Castle Mother's Day Tour and Tea costs £25 per person and can be booked on 01833 660202.
Mothers Day Durham offers and ideas #9: Mothers Day lunch at the Bowes Museum
On Sunday March 31 you can head for a Bowes Museum Mothers Day lunch at Cafe Bowes. There are menu items of various prices. It takes place from 12-2pm and you can book on 01833 690606.
Mothers Day Durham offers and ideas #10: Walworth Castle Mothers Day carvery
Enjoy a two course Mothers Day carvery at Walworth Castle. It takes place on Sunday March 31 from 12-3pm and costs £19.95 per person (£12.95 for under 10s). Every mum receives a Mothers Day gift and you can also enjoy a walk around Walworth Castle grounds.
Alternatively you can have a Walworth Castle Mothers Day afternoon tea for £18.95 or a three course Sunday lunch in the Hansards Restaurant or Library Tower, with a gift for every mum, for £26.95 (£17 under 10s).
You can contact Walworth Castle on 01325 485470 or enquiries@walworthcastle.co.uk
Mothers Day Durham offers and ideas #11: Marco Pierre White Steakhouse flowers
Sign up your details on the Marco Pierre White Durham website and be in with a chance of winning a Mothers Day bouquet of white roses. Entry closes on Tuesday March 26.
You can sign up here.
Mothers Day Durham offers and ideas #12: Duke of Wellington glass of fizz
Take your mum to the Duke of Wellington in Neville's Cross for Sunday lunch or dinner on Mothers Day Sunday March 31 and she'll get a free 125ml glass of Piccini 1882. On Sundays the Duke of Wellington also has a two or three course fixed price menu.