These Durham bank holiday events in August are sure to keep the whole family entertained. Here's what's on for 2019.
If you're looking for August bank holiday events in Durham, we've got you covered. From craft activities for young children through to music and events for grown-ups, there's still plenty happening across our city's many venues, even as the school holidays near their final weeks.
Durham bank holiday events #1: Durham Classic Car Gala, Durham Marketplace
The Durham Classic Car Gala returns to the city centre. With cars displayed in the Marketplace and on Palace Green, there'll also be a street food market in the Marketplace too.
The Durham Classic Car Gala is on Bank Holiday Monday, August 26, from 11am to 4pm and is free.
Read next: Bowes Museum exhibitions for 2019 and 2020
Durham bank holiday events #2: Wharton Brass Concert, Wharton Park
The series of Wharton Park brass concerts continues on Sunday August 25 at 1-3pm. Simply head down to the amphitheatre in Wharton Park (behind Durham railway station) for this free concert.
Durham bank holiday events #3: Cobweb Orchestra, The Bowes Museum
Join players from the Cobweb Orchestra and Soprano Valentina Marghinotti as they rehearse arias from operas by Handel, Mozart, Bellini and Rossini. The orchestra will be performing later in the evening at the preview of the new exhibition The Power and the Virtue: Guido Reni's Death of Lucretia.
The Cobweb Orchestra is at The Bowes Museum on Sunday August 25, 1-4.45pm. Bowes Museum tickets prices are annual adult pass £14, concessions £12, family annual pass £30 (two adults and four children people aged five-17), family annual pass £16 (one adult and four children aged five-17), student day entry £6, under 18s day entry £5 (under 14s must be accompanied by an adult), under fives free, carers free.
Another Bowes Museum bank holiday event is Campfire Cooking, on August 24, 1-3pm. Join Brightwoods Forest School CIC around the campfire and make your very own delicious sweet and savoury damper breads. A delicious addition to your family fun day picnic. Book your ticket and then drop in at any time between 1-3pm. Tickets cost £7.50 per child. Booking required.
For more information call Bowes Museum on 01833 690606.
Read next: Bowes Museum events for the whole of August
Durham bank holiday events #4: Traditional Crafts Weekend, Durham Botanic Garden
Anytime from Saturday to Monday August 24-26 between 10am and 5pm, head to Durham Botanic Garden to see the Traditional Crafts Weekend. Silversmith Les Howe and his wife Vivienne, an artist and card designer, will be demonstrating their skills in the garden.
Les takes much of his inspiration from the history of Durham, in particular St Cuthbert and the Lindisfarne Gospels. Viv works with traditional paper crafts such as embossing quilling and parchment work. Just turn up.
Tickets for entry into the Durham Botanic Garden, which is on South Road, cost £4 for adults and £3 for concessions. Seniors and student tickets are £1.50. Carers and infants go free. The Traditional Crafts Weekend is included in the admission price.
Durham bank holiday events #5: A Night Safari in Hamsterley Forest
Hunt for the night life of the forest including bats, owls and insects with professional naturalist Bruce Ferguson, on a night time expedition in search of some of the nocturnal inhabitants of the forest. You can also use a detector to help locate some of the bats that live in and around the forest.
The Hamsterley Forest Night Safari is on Saturday August 24 from 9-10.30pm and costs £5 per ticket.
For more information or to book, call 01388 529154 or visit the website.
Durham bank holiday events #6: Kids crafts, Witham Arts Centre
Make things inspired by the film Grease, and sing along to the film on the afternoon.
It's on Saturday August 24 from 10.30-11.30am, and costs £2 per ticket (both adults and children). For more information call 01833 631 107.
Read next: Here are the parking and bus changes you need to know during the county council headquarters construction
Durham bank holiday events #7: Graft and Glory exhibition, Tanfield Railway
Explore the North East's industrial heritage with this exhibition which challenges our thoughts on innovations we take for granted, and aims to inspire the next generation of innovators and engineers.
It's on Saturday and Sunday August 24-25 from 10am to 4pm, and also continues beyond the bank holiday weekend on August 29, 31, and September 1. Call 0191 2509717 for more information.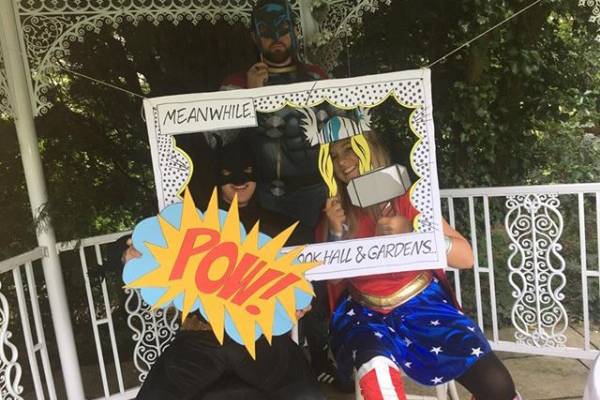 Durham bank holiday events #8: Superheroes, Crook Hall and Gardens
Join in the Crook Hall games with Batman, Thor and Wonder Woman, before joining Wonder Woman for stories afterwards. Search the gardens collecting each clue of the Crook Hall treasure hunt and grab the opportunity to snap a photo with the Joker.
Crook Hall Superheroes is on Sunday and Monday August 25-26, 10am to 4pm. It costs £8 adults, £5 children, concessions £7.50, and family tickets (two adults two children) £22. Under threes go for free. Free for annual pass holders.
No need to pre-book.
Durham bank holiday events #9: Emma Pollock, Old Cinema Launderette
Emma Pollock is a founding member of Glasgow indie rock band The Delgados and their influential record label, Chemikal Underground.
Emma Pollock is in Durham on Saturday August 24 at 7pm.
Tickets cost £18 plus £1.80 booking fee from the booking page.
Durham bank holiday events #10: Pesky Pests, Durham Oriental Museum
Find out how museums protect their collections from hungry insects and make your own museum bug to take away.
The Durham Oriental Museum Pesky Pests event is on Saturday August 24 from 1-3pm. Pesky Pests is included in the Durham Oriental Museum admission price (£1.50 adults, 75p children and over 60s, £3.50 family of two adults and three children) and is generally suitable for children aged five to 11. For information contact Durham Oriental Museum on oriental.museum@durham.ac.uk or 0191 334 5694.
Read next: The best free events in Durham this week
Durham bank holiday events #11: Late Night Milky Way Photography, High Force
Local photographer and astronomer Gary Lintern is sharing his secrets for astrophotography, capturing and editing the perfect shot of the beautiful Milky Way at High Force waterfall in Teesdale.
This event is suitable for all experience levels, from beginners to experienced photographers.
The High Force Late Night Milky Way Photography workshop is on Sunday August 25 from 10.30pm.
Tickets cost £43 from the booking page.
Call 01833 660 202 for more information. If you're interested in stargazing, you can also try astronomy in Durham city.
Durham bank holiday events #12: Story Busking Sessions, Witham Arts Centre
Town crier Ian Kirkbride reads stories at the Witham Arts Centre in Barnard Castle, either in the cafe or outside in the meadow depending on the weather. It's free and is on Sunday August 24 at 10am.
Durham bank holiday events #13: Trail Race, Auckland Castle
This challenging five mile race goes through the Auckland Castle Deer Park, taking in historic features and natural beauty along the way. The Auckland Castle Trail Race is on Sunday August 25 from 12-4pm.
Spectators can also enjoy a series of wellbeing activities. Take part in a Walk4Life version of the trail, as well as a guided sensory walk through the Auckland Castle Deer Park. Incredible Edible Bishop Auckland will be producing snacks and smoothies. £12 per entry, which includes a medal.
The Auckland Castle Race is for over 16s, but there is also a fun run so children and young people can take part too. Tickets can be booked by calling 01388 743 797 or in person at Auckland Tower.
For more information, email bookings@aucklandproject.org.
Read next: County Durham guided walks organised for August 2019
Durham bank holiday events #14: Murder Mystery, Lumley Castle
A re-enactment of a murder, see if you can play detective and solve this hideous crime. The Lumley Castle Murder Mystery is on Saturday August 24 and costs £36.50. Call 0191 389 1111 for more information.
Durham bank holiday events #15: Ranger Fun, Hardwick Park
Hardwick Park is holding free Ranger Fun events every Sunday afternoon, 1-3pm. You can take part in den building, pond dipping and bug hunting. No booking is required. Call 0300 026 2899 for more information.
Durham bank holiday events #16: Hamsterley Hoppings 2019, Hamsterley
On Sunday August 25 join in the fun at this traditional village fair with stalls, rides, competitions, vegetable and flower shows on the village green and in the village hall in Hamsterley. Call 07721739060 for more information.
Read next: Durham Cathedral events calendar for August 2019